Our Products
Techniflo Corporation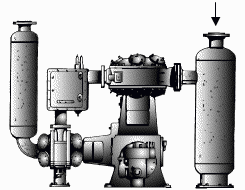 FUNCTION
The function of Techniflo Pulsation Controllers and Separation Controllers is to reduce pipe line surging and the damaging vibration it produces, also to eliminate metering problems due to pulsating flow of compressible fluid from compressors, pumps or blowers. Techniflo Combination Separators remove undesirable particles, liquid or solid, 10 microns and larger.
RANGE OF APPLICATION
While the Techniflo Pulsation Controllers encompass a wide range of standard forms, all are specifically engineered to meet numerous customer and other regulating design requirements are listed below.
All gases and mixtures of gases including ammonia, butadiene, carbon dioxide, freon, helium, hydrocarbon gas, hydrogen, natural gases, nitrogen, oxygen, propane and sulphur dioxide as well as air.
All weights of gases having molecular weight as low as 2 and as high as 120.
All pipe sizes
All pressures up to limits of compressibility or performance limits.
PERFORMANCE STANDARDS
Pressure Drop – Steady flow calculated pressure drop will be less than one percent of absolute line pressure or as specified by customer.
Vibration Control – With Techniflo Controllers installed at the excitation source, vibration in connecting pipe will not exceed .008″ when vibration is due to pressure pulsation.
Pulsation Control – Residual pressure pulsation will not exceed your specified amount.
FABRICATION AND INSTALLATION
Techniflo Pulse Controllers are designed and fabricated according to the latest edition of National Pressure Vessel Codes (ASME, ANSI, API) and codes of other nations. Code vessels are National Board registered and fabrication welding is of x-ray quality. Precedures such as TIG, MIG, Submerged Arc and others are applied. All Techniflo vessels must be close coupled to compressors or pumps. It is in the best interest of our customers that they plan to arrange for installation by their own personnel or contractors of their choosing.
DESIGN
Techniflo Pulsation Controllers and Separation Controllers are designed to prevent the rapid change (pulsation) which occurs at the intake or outlet of compressors, pumps or blowers from being transmitted to pipe lines, to remove entrained moisture from the air or gas stream and to give optimum pulse attenuation. They accomplish this by reducing the rate of change of the exciting force at the source of excitation so that the pressure, due to the piping of gas into the pipe, does not change rapidly enough to cause the gas to oscillate. Pulsation controllers are designed to smooth the flow and stop vibration without the mechanical damping. The result is a marked reduction in maintenance in pipe lines, compressors and associated equipment.
ESTIMATES AND QUOTATIONS
Techniflo recommends the following estimate and/or quotation procedures.
Techniflo requires flowing medium,and operating conditions for a prompt computer verified quotation and response.
Other essential information be furnished by customer.
Pulsation Controllers
Separator-Dampeners
Moisture Separators
Suppressors
Vessels for all gases including oxygen, hydrogen, air, nitrogen
Silencers for compressors to eliminate noise.